The Comprehensive U.S. SILVER DOLLAR Encyclopedia - eBook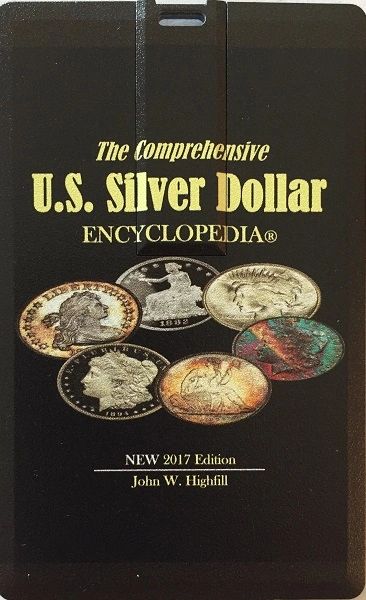 The Comprehensive U.S. SILVER DOLLAR Encyclopedia - eBook
This eBook was created especially for numismatists of all ages and callings. It is full of the energy and knowledge of John W. Highfill and a gathering of the finest talent that this industry has to offer. The "special" guest authors who have united with Mr. Highfill to produce this work or providing a masterpiece which will reside in the libraries of all serious collectors, dealers and enthusiast alike. These talented and knowledgeable individuals have each contributed the best of their experience, intuition and wisdom to provide the best encyclopedia of the U.S. Silver Dollar ever produced.
This Comprehensive U.S. Silver Dollar Encyclopedia® eBook contains information on every silver dollar in all years and varieties, from the first issue of 1794 to modern commemoratives. The popular Morgan dollars (1878-1921) and Peace dollars (1921-1935) have received special treatment. Mintage figures, grading information, rarity information, investment data, and more awaits the reader.
This 2017 eBook is the creation of noted silver dollar specialist John W Highfill. It contains contributions from many of Americas best known experts and dealers in the silver dollar field. It is unique in numismatics; no other writings like it has ever been published. The first Comprehensive U.S. Silver Dollar Encyclopedia® was written and published during 1986-1992. This 2017 updated to volume Encyclopedia is now available as an eBook.
Available wherever Ebooks are sold. Enjoy!